Carna Gold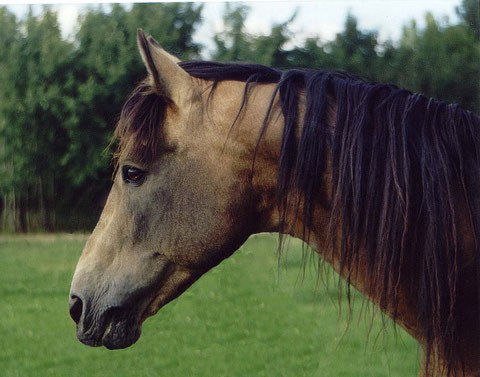 Carna Gold (S640), geb./born 1974, Falbe/ Buckskin, 1,54m,
Vater/Sire: Carna Dun (S89), Mutter/Dam: Carrabaun Colleen von/by Paddy´s Boy)
3-jährig gekört in Irland, verkauft nach Holland, von 1997-2000 im Deckeinsatz in Deutschland auf Connemara-Gestüt Stöben in Neuwittenbek,  gestorben kurz nach der Rückkehr ca. 2001/2002 in Holland.
As a 3-year old approved in Ireland, then sold to the Netherlands. From 1997-2000 as a breeding stallion at Connemara-Stud Stöben in Neuwittenbek. Dies about 2001/2002 shortly after returning to the Netherlands.
Carna Gold

Carna Dun  





 Little Heaven XX

Balar Hissar XX

Outport XX

Double Dun  

Dun Heath

Carna Girl

Carrabaun Colleen

Paddy´s Boy

Paddy´s Heaven 

Swangate

Canrower Pet

Bridge Boy

Loughinch Pet
Carna Gold 1998 oder 1999 - ca. 24 Jahre alt / approx. 24 years of age